Giving Vision Day: Nov 4, 2019
Fairbury Vision Center Focuses on Vision Charity Work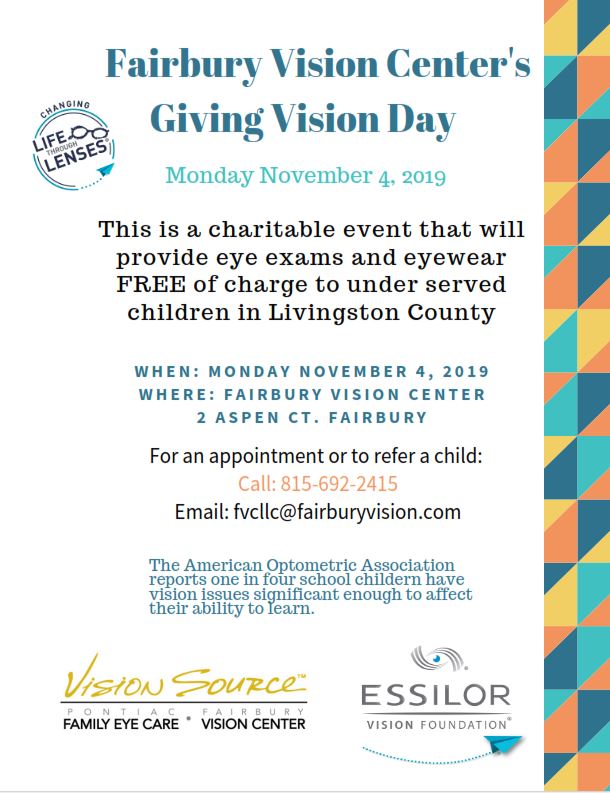 Upcoming event on 11/4/19 – One in four children in the United States has a vision problem that affects their ability to learn, and many don't have access to the vision care they need. In an effort to help bridge the gap, Fairbury Vision Center is partnering with Essilor Vision Foundation to participate in the Changing Life through Lenses™ program. This program provides lenses and lab services at no cost, enabling the practice to enhance its charitable giving.
Fairbury Vision Center is proud to partner with Essilor Vision Foundation to bring awareness and vision services to children in need in our community," says Dr. Terri Rieger. "The Changing Life through Lenses™ program gives us the tools we need to truly make a difference and give within our community. We are committed to helping children see clearly and succeed."
Fairbury Vision Center will offer eye exams and glasses through the Changing Life Through Lenses™ program on Monday, November 4th from 10am to 6pm. No-cost vision services will only be offered at this time. Dr. Rieger will be conducting the eye exams.
The Changing Lives Through Lenses™ program is specifically designed to help eye care professionals provide vision care and eyeglasses at no charge to people at or below the poverty level without vision insurance. The program does not provide no-cost eyeglasses or vision services to consumers with the ability to pay.
"Vision is an invisible problem; unlike hunger or tooth decay, children are often unable to self-identify that their vision is impaired," explains Kim Schuy, President of Essilor Vision Foundation. "By participating in the Changing Lives through Lenses™ program, Fairbury Vision Center is taking an active role in advocating for the children in their community."
Without charitable eye doctors, millions of children across the United States would be unable to obtain vision services. The Changing Life through Lenses™ program allows eye doctors to make a significant impact in their communities at no cost to those they help.
About Fairbury Vision Center
Fairbury Vision Center is a privately owned optometry practice serving all ages with personalized eye care solutions. Our patients are like family. We focus on enriching their lives through optimizing eye health and eyesight. Dr. Rieger specializes in pediatric optometry and vision therapy. Dr. Radford practices general optometry with an emphasis on ocular disease and specialty contact lens fitting. To learn more, visit us online at www.fairburyvisioncenter.com
About Essilor Vision Foundation
We strive to give children a brighter future by helping them see the world more clearly. Since 2007, the Essilor Vision Foundation has provided more than 500,000 pairs of eyeglasses to individuals in need. The Essilor Vision Foundation is a 501(c)(3) public, non-profit organization, based in Dallas, Texas, committed to eliminating poor vision and its lifelong consequences. To learn more or to donate, visit Essilor Vision Foundation at www.evfusa.org / 1-866-385-0447.