Technology
Our practice is committed to protecting your eye health with the most advanced technology available
iWellness Exam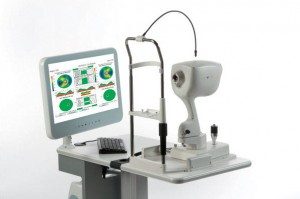 We are excited to announced that our comprehensive eye exam now includes the iWellnessExam.
The iWellnessExam is state-of-the-art technology that lets our doctors see beneath the surface of your retina where signs of disease first appear. Traditional eye exams and retinal photography do not provide this level of detail.
The iWellnessExam is fast, easy, and comfortable for patients and gives your doctor valuable information about the health of your eyes and your most precious gift – your sight.
Optomap Retinal Exam
Fairbury Vision Center offers the optomap® Retinal Exam as an important part of our eye exams. Our office has long believed in the importance of retinal imaging, and we've recently updated our camera to the new California model for improved image clarity and wider field of view up to 200 degreees. The optomap® Retinal Exam produces an image that is as unique as your fingerprint and provides us with a wide view to look at the health of your retina. The retina is the part of your eye that captures the image of what you are looking at, similar to film in a camera.
The optomap® Retinal Exam provides us a more complete view of your retina than we can get with any other means.
The optomap® Retinal Exam is fast, easy, and comfortable for all ages. To capture a retinal photo, you simply look into the device one eye at a time and you will see a comfortable flash of light to let you know the image of your retina has been taken. The optomap® image is shown on a computer screen so we can review it with you.
Right Eye Testing & Training
Fairbury Vision Center's focus on diagnosing and improving vision function for binocular vision disorders is benefited by the use of technology. Both pediatric and adult patients benefit from Right Eye Testing.
Right Eye testing is an easy five-minute test that measures eye tracking. Right Eye has protocols for functional vision, reading, brain health, and sports performance. Testing measures eye alignment, dynamic visual acuity, eye teaming, depth perception, object tracking, gross visual motor, visual perception, visual integration, reaction time, and fixation stability. The EyeQ reports are instantly generated and easy to read. The results are useful for the optometrist to devise a customized treatment protocol. The reports' graphs and diagrams are easy for patients, parents, caregivers, or teachers to understand resulting in better patient outcomes.
Right Eye EyeQ Trainer is a computer-based therapy option that helps functional vision issues. Eye exercises are customized to each patient based on their EyeQ testing results. Right Eye Training is used alongside a vision therapy program. With successful treatment, patients report better focus and concentration, improved balance and hand-eye coordination, and enhanced performance with daily activities such as reading, driving, and sports.
Sanet Vision Integrator
The Sanet Vision Integrator is another technology used in vision therapy. With a large touch screen monitor, the SVI is designed to improve visual abilities for a wide range of patients with vision-related learning problems, amblyopia, and traumatic brain injury. It is also very useful for sports vision enhancement. This programmable instrument incorporates features of a saccadic trainer, virtual rotator, tachistoscope and programmable metronome. The SVI contains auditory cues to respond to verbal commands, improving auditory-visual integration and memory.
The SVI can be used to enhance the following visual abilities: Pursuits, saccades, fixation stability, eye-hand coordination, visual reaction time, speed and span of recognition, automaticity, and contrast sensitivity, plus visual and auditory sequencing and memory. Additionally, it's useful to improve function in patients with visual field loss, visual-spatial neglect, and visual-vestibular integration problems, and with patients with rhythm, reading, and math problems.