Technology
iWellnessExam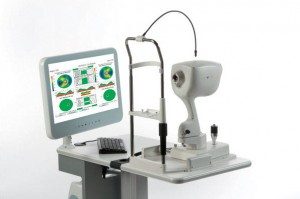 Our practice is committed to protecting your eye health with the most advanced technology available, and we are excited to announced that our comprehensive eye exam now includes the iWellnessExam.
The iWellnessExam is state-of-the-art technology that lets our doctors see beneath the surface of your retina where signs of disease first appear. Traditional eye exams and retinal photography do not provide this level of detail.
The iWellnessExam is fast, easy, and comfortable for patients and gives your doctor valuable information about the health of your eyes and your most precious gift – your sight.
Optomap Retinal Exam
Fairbury Vision Center offers the optomap® Retinal Exam as an important part of our eye exams. Our office has long believed in the importance of retinal imaging, and we've recently updated our camera to the new California model for improved image clarity and wider field of view up to 200 degreees. The optomap® Retinal Exam produces an image that is as unique as your fingerprint and provides us with a wide view to look at the health of your retina. The retina is the part of your eye that captures the image of what you are looking at, similar to film in a camera.
The optomap® Retinal Exam provides us a more complete view of your retina than we can get with any other means.
The optomap® Retinal Exam is fast, easy, and comfortable for all ages. To capture a retinal photo, you simply look into the device one eye at a time and you will see a comfortable flash of light to let you know the image of your retina has been taken. The optomap® image is shown on a computer screen so we can review it with you.