COVID-19 Announcement from Fairbury Vision Center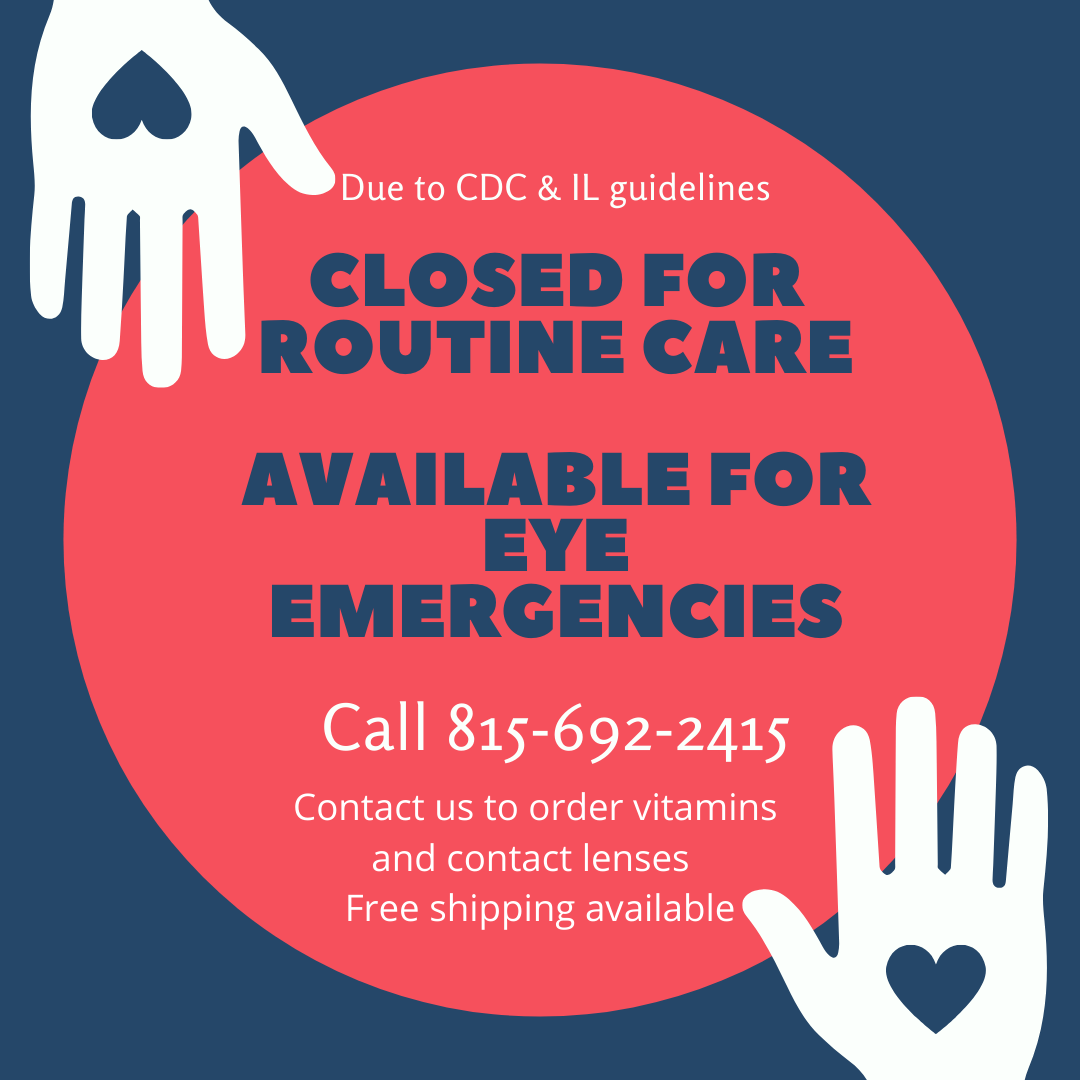 Hope you and your loved ones are well during these uncertain times.
As an essential health service, be assured our doctors will remain available for emergency cases if they occur. The doctor will determine if the emergency should be handled by phone, video, or in-person. During this time, staff will continue to answer the phones during most of our normal business hours. If you have an appointment already scheduled during the next month, we will reach out to you to postpone your appointment to a later date.
Direct shipment of soft contact lenses will continue to be available (most brands ship free with a 2 box purchase). For our patients who use supplements to improve their eye health, we can ship your supplements to you free of charge when you order at least 3 bottles.
CONTACT LENS WEAR UPDATE
In this critical time, it is important that we rely on science to guide us. There is misinformation circulating on social media and mainstream media outlets regarding safe contact lens wear during the COVID-19 epidemic. There is currently no scientific evidence that contact lens wear is problematic during this epidemic as long as normal, proper disinfection protocols are followed. Our practice data shows about 70% of our patients are wearing daily disposable lenses, which is the healthiest form of contact lens wear. We want to let you know that contact lens wear is safe as long as you are practicing safe contact lens insertion and removal protocols including hand washing for at least 20 seconds with soap and water. Additionally, follow your optometrist's prescribed disinfection and replacement protocols. If you do feel ill with cold or flu-like symptoms, you should cease contact lens wear until you are well.
Please contact our office if you have further questions regarding appropriate contact lens wear during this crisis.
Please stay tuned for further updates. We wish all of you continued health and strength during this challenging time.
Be well,
The Doctors and Staff of Fairbury Vision Center